Sun-Dried Tomato Hummus!
Hummus has to be one of the most tastiest snacks ever. Served with some baby carrots or some pita chips, I could probably eat a half container all by myself. I wouldn't say it's super expensive or hard to find...you can find it in any grocery store, and at Costco, they sell em in the huge super sized containers (which I would never be able to finish), but it is SO easy to make on your own!
Traditional hummus calls for chickpeas, tahini, olive oil, salt, pepper, garlic, etc...but every time I have bought tahini, it's so expensive, and I end up wasting it because I don't really use it for anything else! Wasting is no bueno!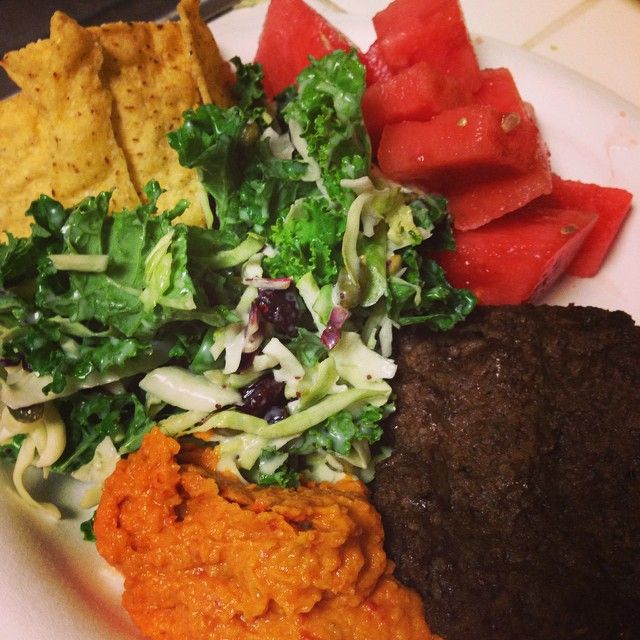 A random dinner I made with things I had on hand...hummus with chips, watermelon, kale salad, and an overcooked hamburger patty :( lol!
Sun-dried tomatoes are my fav..and quite expensive, unless I buy them at Costco. I had a huge jar that I've been using from time to time for sandwiches, or eating with crackers...but I was trying to figure out a way to use them more so I wouldn't waste them. I used to make a similar hummus at a sandwich shop I used to work at a few years ago. It was easy, and tasty, but felt like there was a lot more room for improvement! My husband isn't a huge fan of the tomatoes in general, but he loves the sun dried tomato hummus that I make...and best of all it does not require any tahini!!! This isn't a recipe that is made down to a science...most of it us just adding things to your liking...but it is so easy to make! Try this recipe and let me know what you think!
Sun-dried Tomato Hummus
Ingredients
1 can drained chickpeas
1/3 - 1/2 cup sun-dried tomatoes, with some of the olive oil is ok!
1-2 garlic cloves, rough chopped
salt, to taste
lemon juice, to taste
water
additional EVOO
Directions
Put chickpeas, sun-dried tomatoes, salt, and a few squirts of lemon juice into a food processor. Pulse a few times, then let it go to blend it all together.
Add more EVOO to your taste, and water to thin it out a little bit if it is too thick.
ENJOY with some veggies, pita, or tortilla chips!
NOTES
Not the greatest picture, but here is the artichoke heart hummus!!! SO delicious and just as easy!
For artichoke hummus, follow the above recipe, but replace sun-dried tomatoes with marinated artichoke hearts!